Catsitter Catten supports you and your cats at home.
Services
Catsitter Catten takes care of your cats at home while you are away . CS Catten visits your house once a day to feed your cats, clean up their litters, check their well being and play with them. CS Catten will send you a daily report in English by e-mail or Facebook message.
When your travel is planned, please contact CS Catten from the Sitting Request section below.
Area of service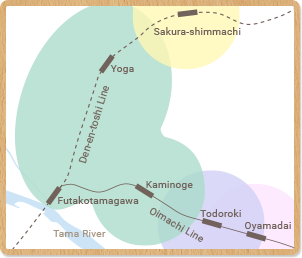 Den-en-toshi Line

Sakura-shimmachi, Yoga, Futakotamagawa

Oimachi Line

Kaminoge, Todoroki, Oyamadai
Tariff

Base Charge
JPY3,300 (1 visit per day)
*In case 2 visits per day are needed for aged or baby cats, the charge is doubled. (Except busy seasons such as year end, new year, Golden Week, mid-summer Obon.)
Transportation
Round trip public transportation fare from CS Catten (Yoga Station or Tamagawa-Byoin-Iriguchi Bus Stop).
For the area where the public transportation is not available, the visit by bicycle less than 10 minutes from CS Catten (Tamagawadai 2-chome) is at free of charge. JPY300 per visit for 10 minutes or more.
Cat Record
A record will be created at JPY1,000 per cat at the beginning of services. This is for the first time only.
When a new cat joins, a new record will be created at JPY1,000.
Options
The base price covers 2 cats. JPY500 for an additional cat.
To return your house key, the secure postal system Letter Pack Light at JPY370 is recommended.
Watering plants inside the house, picking up newspaper and/or postal mails from mail box – free of charge.
Payment / Cancellation Policy / Emergency Request
Payment
Please pay in advance by bank transfer or cash.
Cancellation Policy
2 days before the first sitting day – 30% of the base price
1 day before the first sitting day – 50%
Day of the first sitting day – 100%

In case you return home earlier than scheduled dated, 30% of base price of remaining days.
Please bear the postal fee to return your house key, and bank transfer fee.
Emergency Request
In case the request form and/or the house key arrived to Catten, the emergency charge will be charged.

1 day before the first sitting day – JPY1,000
On the first sitting day – JPY2,000
Sitting Request
Estimate
If you would like to have an estimate prior to the sitting request, please fill out the Estimate Request form.
Sitting Request for the First Time
If you request the sitting for the first time, please use the Sitting Request for First Time form and send it at least one week prior to the sitting.
In case it is less than 3 days prior to the sitting, CS Catten will require the emergency charge (JPY500).
Please input your address, nearest station/bus stop, number of days of sitting, number of your cats if you have not received the estimate from CS Catten yet.
Sitting Request for Repeater
Please fill out the Sitting Request for Repeater form if you are the repeater.
In case there are changes in number of your cat(s), address, e-mail address or telephone number, please input the latest information.
If you need a pre-meeting for this time, please indicate your preference of timing. (Pre-meeting is subject to fees.)
Please input -marked sections only if there are no changes since the last sitting.